Business-Minded
We are a multifaceted firm with a strong track record of being highly integrated into our clients' businesses. Known for our industry insight, entrepreneurial culture and strategic networks, we actively seek to connect our clients with the people, resources and solutions they need to succeed.
We are proud of our long history serving clients in core sectors of the business community, including in the constantly evolving technology industry, the rapidly expanding real estate sector as well as in energy and natural resources, consumer goods and services, infrastructure and construction, finance and venture capital and economic development on First Nations lands.
Tangible evidence of the work achieved by our clients and the legal support we provide is all around us—Vancouver's skyline, transit line and airport as well as many of the companies and brands that we encounter every day. We are proud to be involved with the developments, industries and infrastructure that define our city, our province and our market.
As active and engaged members of the corporate community—our lawyers are members of business and community boards, directors of industry associations and sought-after speakers on trending topics—we are recognized as leaders in the market with strong relationships to business.
Vancouver-Based, Globally Connected
Our lawyers help Canadian companies grow their business internationally, protecting their domestic interests and ensuring that, when it is needed, they are connected with the best resources in other jurisdictions. Similarly, we regularly are called on by international companies and their foreign legal representation to assist them in successfully expanding their businesses into British Columbia and Canada. Our strong profile has earned us consistent recognition as one of Western Canada's leading law firms.
We are also members of SCG Legal, one of the largest legal networks in the world with more than 120 independent law firms and 10,000 lawyers across Canada, the US and major centres of commerce across the world. Membership in SCG Legal is strictly by invitation. The nine Canadian firms of the SCG Legal network have proactively worked to create an integrated structure that spans the country with 19 offices and over 550 lawyers. This access allows us to connect BC business leaders with qualified guidance and representation for any complex international or multi-jurisdictional legal matter.
Committed to Diversity and Inclusion
We know from experience the power of listening to many voices and perspectives as we work to strengthen our diverse team and serve our clients.
We are committed to providing a safe and collegial working environment in which each individual is treated with respect and dignity and where discriminatory practices are prohibited. We know that a commitment to diversity and inclusion requires us to recognize and address the blindspots we all carry. We take this work seriously. Our initiatives include:
diversity education through our CW Connect program
mental health awareness through our active membership in the Canadian Mental Health Association's Not Myself Today initiative,
working with our Indigenous lawyers to develop Indigenous intercultural competence and answering the Truth and Reconciliation Commission's Calls To Action,
career support for new parents ensuring a smooth career transition onto leave and a sustainable and successful return to practice, and
support for our lawyers' membership in myriad affinity groups.
Guided by Values
Our values are our guiding light. They reflect who we are, and what we believe in. Everything we do is influenced by them. They are:
Caring – We genuinely care about the wellbeing of each other and offer flexible support that balances the unique needs of every individual with those of the firm. We nurture our relationships through personal connection and recognition.
Excellence – We are always striving for excellence in ourselves and our work. We take initiative, share our knowledge, seek out feedback and pursue continuous learning so we can find the best solutions for our clients.
Service – We work with our people, clients and communities to help them achieve their unique goals. Service is a strong commitment we all share.
Teamwork – Everyone has a valuable role to play in delivering complete and value-added client service. We share our knowledge to help each other learn, improve and grow. We acknowledge the contributions and the effort required from all of us to help our clients succeed.
Trust and Integrity – Our work is built on mutual trust, earned through our commitment to standing by our word. We act with integrity, navigating complex issues to deliver the best outcome for our clients.
Innovation & Efficiency
As your business needs grow, so do our services. We believe in providing our clients with legal advice through the use of innovative technology and streamlined processes. This allows us to better collaborate and communicate to provide the best legal advice in a practical and cost-efficient manner. With access, on-demand, to various technological programs, we can help our clients achieve successful results.
Our programs include:
Community-Driven
We are committed to serving a responsible role in the communities where we work and live, participating in and supporting many social, environmental and cultural initiatives through our CW Cares program. CW Cares has given all members of our firm the opportunity to pull an airplane for United Way, pet owls at the Orphaned Wildlife Rehabilitation Society, don ugly holiday sweaters for the Children's Wish Foundation of Canada, sport jeans for the BC Children's Hospital and walk for the Multiple Sclerosis Society of Canada.
We are also committed to sustainable living and consumption. Our Sustainability in Practice Working Group is dedicated to reducing our carbon and ecological footprint through education and implementation of sustainable initiatives.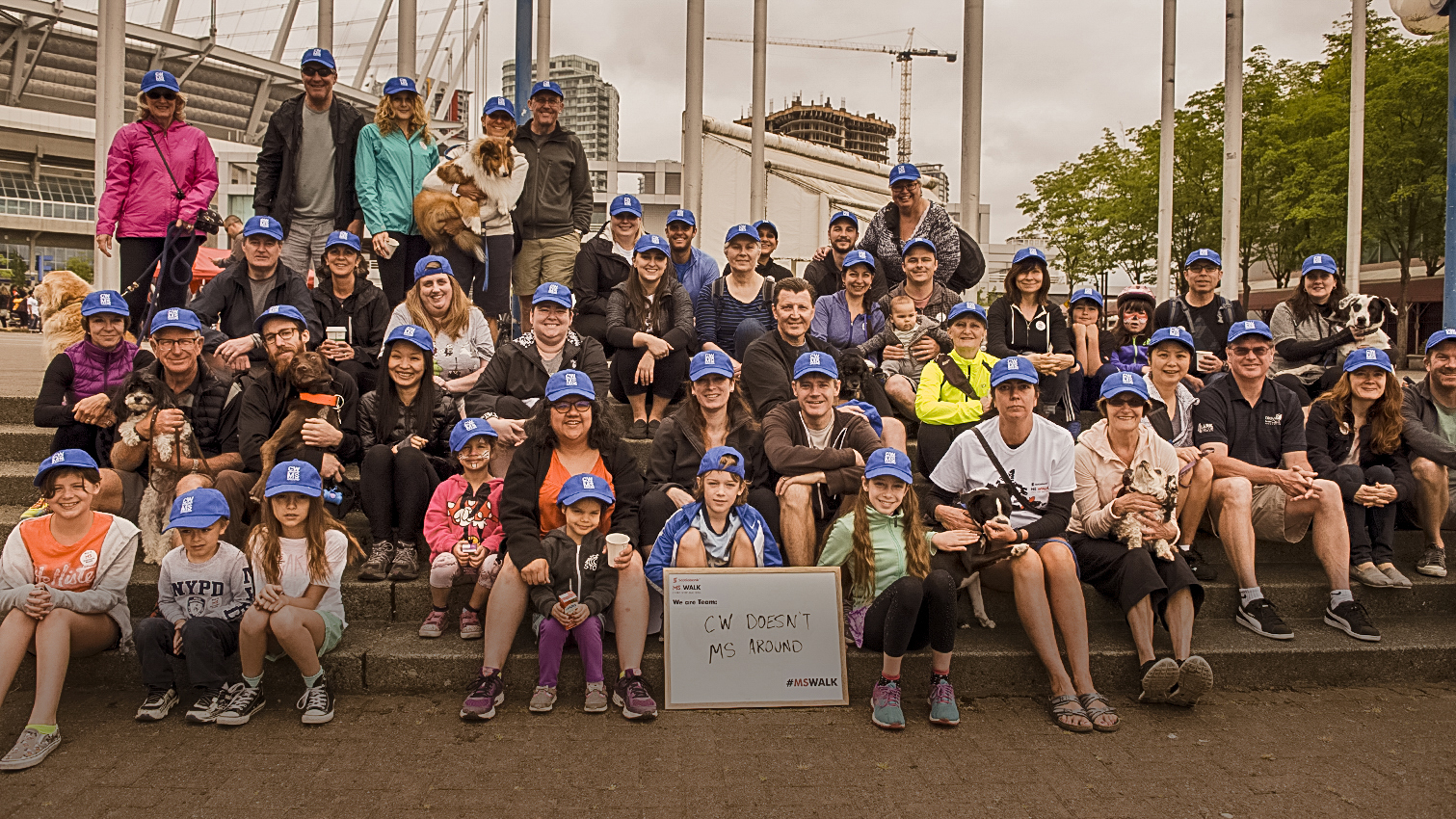 Our team
shining bright
at the MS Walk
Historically Proud
We are extremely proud that the history of our firm dates back more than 106 years.
1909: John Clark and Alexander Wilson, lifelong friends, moved to Vancouver and helped to establish the 72nd Seaforth Highlanders of Canada—a primary reserve infantry regiment of the Canadian Army
1911: Clark and Wilson began to practice law and did so for the next several decades
Post-World War II: Clark and his son formed the law firm Clark & Clark
1951: John Maguire joined Clark & Clark, and the firm became Clark & Maguire. Alexander Wilson and his partners practiced under the name Wilson & White. They occupied the adjoining offices next to Clark & Maguire. It was said that the door between the two firms was never closed
1952: The two firms decided to merge as Clark, Wilson, White, Clark and Maguire
Present: The current name of Clark Wilson is said to have been bestowed by a receptionist who was too rushed to use the full name when answering the busy phone lines, so she shortened it to "Clark Wilson & Company"
And the rest is history!