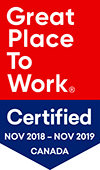 GROW WITH US AND BE YOUR BEST
Clark Wilson LLP is seeking a Host Services Attendant to join our growing Office Services team.  The regular working hours for this role are Monday – Friday, 7:30am – 3:30pm, with occasional afternoon coverage or overtime for evening events.  The Host Services Attendant is supervised by the Host Services Steward, who will provide training and day-to-day direction and delegation of work.  Cooperatively, the department is accountable for maintaining standards and procedures set by the Firm and the Office Services Manager, who manages the entire Office Services group.
PRIMARY RESPONSIBILITIES
The Host Services Department is responsible for attending to client events, including catering set up and take down, and providing service to boardrooms and meetings.  The department orders supplies for and stocks kitchen items throughout the firm, as well as cleaning, housekeeping, and upkeep of the kitchen facilities on a daily, scheduled basis.  The duties of this position will include the following:
Host Services
Cleaning 4 staff kitchens on a daily timetable;
Loading and emptying firm dishwashers on a tight schedule, while being available for last minute requests for our clients;
Calling for service on any of the firm's kitchen appliances and coffee machines;
Stocking and maintaining boardrooms, lunchrooms and kitchens with appropriate dishware and supplies;
Meeting set up, including making hot beverages, setting out catered food for meetings, and keeping track of the meeting schedule to ensure meetings start and end on time;
Liaising with outside vendors and caterers; and
Ordering firm kitchen stock and supplies.
The ideal candidate will have a minimum of 5 years previous experience in a customer service/ hospitality role in a busy, large, professional environment – hotel housekeeping, cleaner, banquet services, etc.  The individual should possess the following attributes:
Flexible and adaptable;
Excellent verbal and written communication skills;
Ability to provide outstanding customer service to a variety of internal and external clients;
Ability to handle stringent deadlines and work with a large volume of tasks, with interruptions and changing priorities;
Excellent organizational skills, with exceptional attention to detail;
Ability to exercise sound judgment, discretion, confidentiality, and adapt to changing demands;
Comfortable with technology and working with MS Office, Windows, and PCs;
Ability to build rapport with their team, and provide timely support to solicitors, legal administrative assistants and paralegals; and
Ability to work both independently and as part of a large collegial team.
ABOUT US
Clark Wilson is a thriving regional law firm that provides an excellent platform for business-minded professionals. We are consistently recognized by Canadian Lawyer as one of Western Canada's top 10 regional firms most recently certified as a Great Place to Work by Great Place to Work® Institute Canada. Our firm is comprised of over 90 highly accomplished lawyers and 150 support staff. We are proud that our team includes a diverse range of backgrounds and experience, with a common dedication to responsive, thoughtful and comprehensive client service. Our clients count on us to achieve results and provide value quickly and efficiently.   Our employees are instrumental in helping us to achieve these results.   If you would like to be part of our team and are hardworking and goal driven – we want to hear from you!
BENEFITS WE OFFER
We offer a comprehensive salary and benefits package that is very competitive, together with opportunities for personal and professional growth.  Our benefits include:
a matching RRSP program;
an annual education/tuition allowance;
ongoing continuing education;
flexible health and dental coverage;
short and long term disability insurance;
personal days to help balance outside commitments;
employee assistant program;
monetary incentive for employee referrals;
casual day every Friday; and
plenty of opportunity to get to know your co-workers during our various social events and treat days throughout the year.
See for yourself by checking out our Blog under our Culture section of our website.
HOW TO APPLY
Please visit our website at www.cwilson.com to find out more about Clark Wilson. You can apply for this position through the careers section of our website or by emailing your resume to Sherri Fostvelt, Director of Human Resources at recruiting@cwilson.com.
Clark Wilson is an equal opportunity employer and offers competitive compensation and a positive team working environment. We thank all applicants for their submissions, however, only those persons selected for an interview will be contacted.