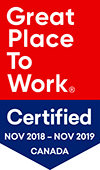 GROW WITH US AND BE YOUR BEST
Clark Wilson LLP is seeking a Web and Graphic Designer to join our Client Relations team.  This is a full time, permanent position and is ideal for anyone wanting to join a firm that takes pride in having a collegial working atmosphere, where growth and professional development are supported.   The Web and Graphic Designer will work with the Director of Client Relations to support practice and industry group business development.
PRIMARY RESPONSIBILITIES
develop engaging client-facing presentations utilizing the latest software;
design electronic and print material for the firm, practice groups and lawyers including: infographics, advertising, brochures, invitations, web graphics, white papers and proposals;
recommend changes and redesigns for existing marketing and business development materials in order to support departmental objectives;
continually provide recommendations to increase the firm's website traffic, article viewership, newsletter subscribers and open rates by analyzing available data and researching best practices;
maintain consistency of the firm's branding on multiple external channels;
update and maintain the firm's websites and blogs in a timely manner, utilizing SEO best practices;
manage distribution of firm newsletters and social media as needed;
assist with departmental projects and events as required; and
co-ordinate with external vendors and partners as necessary on projects.
QUALIFICATIONS AND SKILLS
a minimum of 4 years of relevant experience in a marketing environment is an asset;
strong design and layout skills with comprehensive understanding of both print and web mediums;
full proficiency with Adobe Creative Suite and WordPress CMS;
basic knowledge of After Effects or Basic Pro;
knowledge of HTML, CSS coding and familiarity with design and coding for SharePoint;
strong understanding of SEO principles and social media, particularity in B2B context;
solid understanding of marketing and communication principles;
ability to identify communication channels for different types of content for maximum audience reach and engagement;
excellent verbal and written communications, as well as strong proofreading skills;
highly motivated with excellent organizational skills and attention to detail;
the ability to manage multiple projects and remain flexible through multiple revisions while keeping a keen attention to detail and adhering to strict deadlines;
able to build credibility with Partners and Associates and form collaborative relationships with other team members and staff; and
a client centered approach with a commitment to providing outstanding service;
ABOUT US
Clark Wilson is a thriving regional law firm that provides an excellent platform for business-minded professionals. We are consistently recognized by Canadian Lawyer as one of Western Canada's top 10 regional firms most recently certified as a Great Place to Work by Great Place to Work® Institute Canada. Our firm is comprised of over 90 highly accomplished lawyers and 150 support staff. We are proud that our team includes a diverse range of backgrounds and experience, with a common dedication to responsive, thoughtful and comprehensive client service. Our clients count on us to achieve results and provide value quickly and efficiently.   Our employees are instrumental in helping us to achieve these results.   If you would like to be part of our team and are hardworking and goal driven – we want to hear from you!
BENEFITS WE OFFER
We offer a comprehensive salary and benefits package that is very competitive, together with opportunities for personal and professional growth.  Our benefits include:
a matching RRSP program;
an annual education/tuition allowance;
ongoing continuing education;
flexible health and dental coverage;
short and long term disability insurance;
personal days to help balance outside commitments;
employee assistant program;
monetary incentive for employee referrals;
casual day every Friday; and
plenty of opportunity to get to know your co-workers during our various social events and treat days throughout the year.
See for yourself by checking out our Blog under our Culture section of our website.
HOW TO APPLY
Please visit our website at www.cwilson.com to find out more about Clark Wilson. You can apply for this position through the careers section of our website or by emailing your resume and a link to your portfolio to Sherri Fostvelt, Director of Human Resources at recruiting@cwilson.com.
Clark Wilson is an equal opportunity employer and offers competitive compensation and a positive team working environment. We thank all applicants for their submissions, however, only those persons selected for an interview will be contacted.