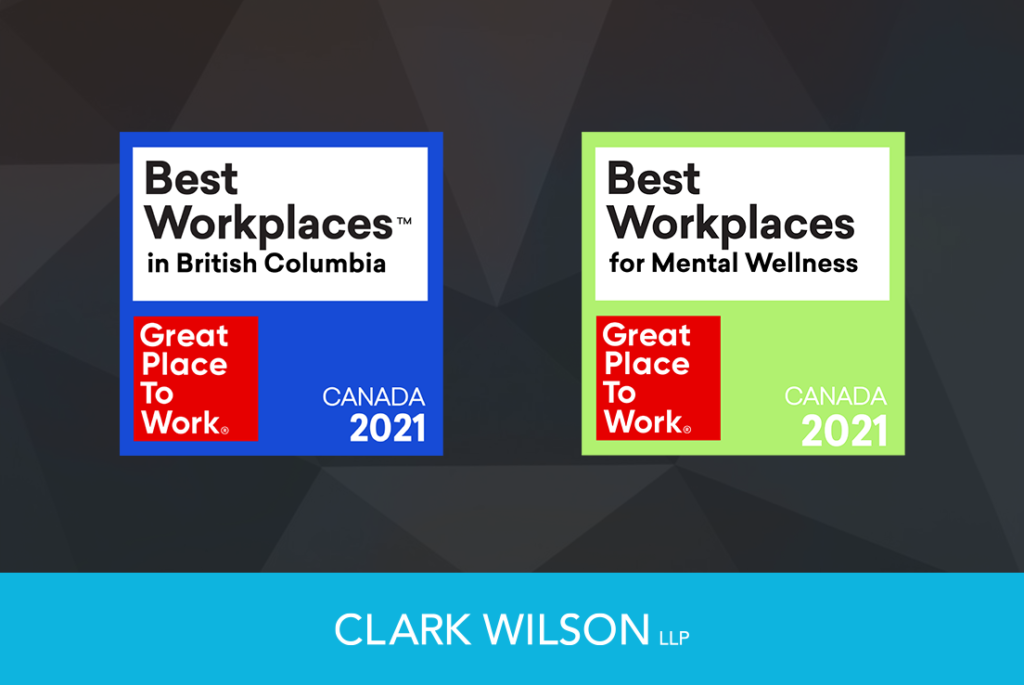 We are delighted that we have been recognized by Great Place to Work Canada as the only law firm to be named as a Best Workplace in British Columbia and nationally as a Best Workplace for Mental Wellness in 2021.
To be eligible for these lists, organizations must be Great Place to Work Certified™ in the past year. From this group, the Great Place to Work® Institute evaluates each of these organizations to identify the top performers as Best Workplaces. The Great Place to Work® Institute's annual list is based on over 30 years of thorough, independent research and analysis.
To classify as a Best Workplace in British Columbia, organizations must be based in the province and achieve the BEST overall Trust Index scores from their employees in BC.
To identify a Best Workplace for Mental Health, at least 75% of employees must agree their workplace is psychologically and emotionally healthy. The Institute determined the BEST based on the overall Mental Wellness Index score from employees as well as the range and quality of programs which encourage mental wellness. The Best Workplaces for Mental Wellness put employee well-being at the forefront. These organizations know that building a healthy company for their customers starts with building a healthy company from within.
About Great Place to Work® Institute
Great Place to Work (GPTW) is the global authority on high-trust, high-performance workplace cultures. Through proprietary assessment tools, advisory services, and certification programs, GPTW recognizes the world's Best Workplaces in a series of national lists including those published by The Globe & Mail (Canada) and Fortune magazine (USA). GPTW provides the benchmarks, framework, and expertise needed to create, sustain, and recognize outstanding workplace cultures. Visit GPTW at www.greatplacetowork.ca.