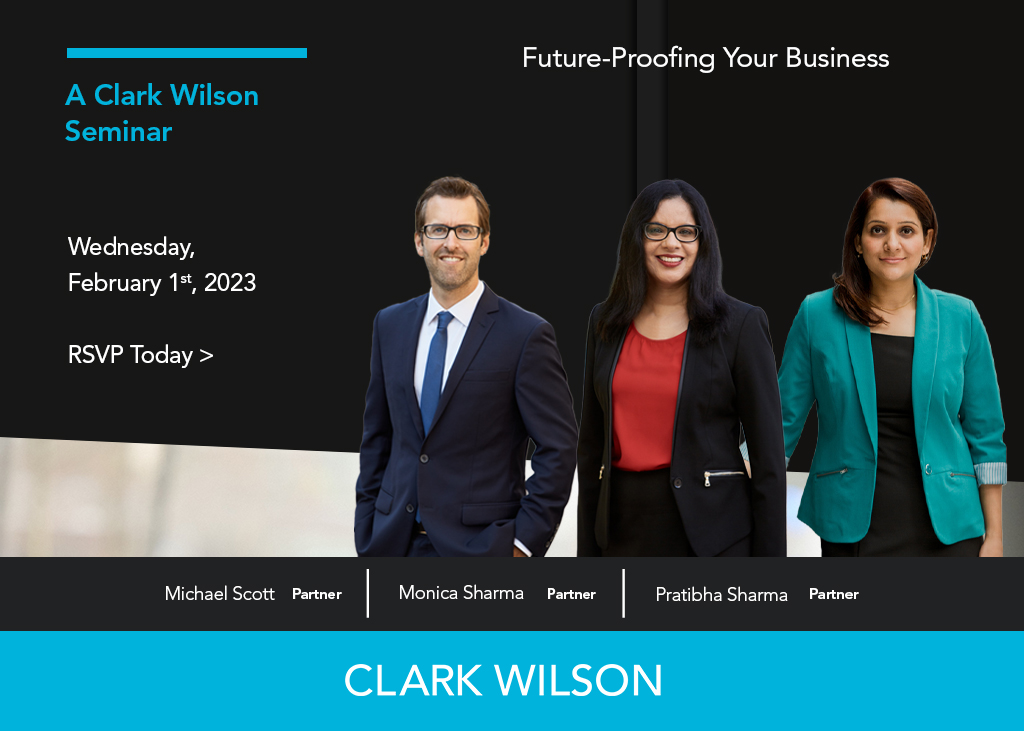 Are you thinking of selling your business?
Taking steps now to prepare for business succession could help save you money and avoid some common pitfalls to make transitioning to your next chapter a lot smoother when the time comes.
In this seminar, Clark Wilson partners Michael Scott, Monica Sharma and Pratibha Sharma will provide practical advice and tips for future-proofing your business, including how to:
1. Ensure your records accurately reflect ownership and control as you understand it, without any breaks in the chain of title — don't be caught up in transactional delays down the road!
2. Qualify for, and make the most of, the Lifetime Capital Gains Exemption to maximize your tax savings
3. Make sure your business actually owns its assets, including intangible assets like intellectual property – you may be surprised!
4. Structure your business and employees for a smooth succession
5. Plus much more!
When: February 1st, 2023, 8:30 am – 10:00 am PST
Where: The Clark Wilson offices at 900-885 West Georgia Street, Vancouver, BC
Cost: Complimentary
Please note: Space is limited! If you're interested in attending, please RSVP to events@cwilson.com or call 604.891.7706.