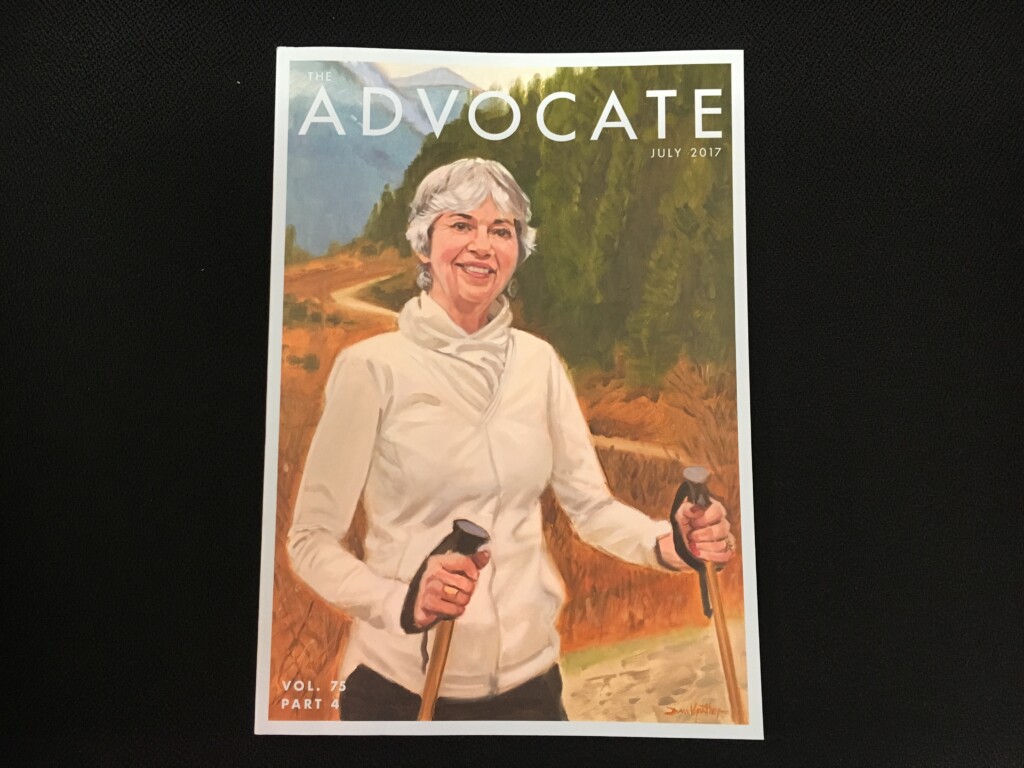 Who hikes faster than a speeding bullet and leaps mountains in a single bound? The Honourable Marion J. Allan, of course…
And so begins the celebration of Marion Allan in the July issue of the Advocate. Featured for her illustrious career, leadership and reputation, Marion takes her place among the greats as the cover story of the renowned magazine.
Established in 1943, the Advocate is published just six times/year by the Vancouver Bar Association as the leading journal for both academic and informative legal writing. It is the signature publication that binds together the community of law in BC as an invaluable resource for lawyers and legal scholars throughout the province.
For its July issue, the magazine chose Marion as their muse, writing about her work and painting a portrait of her in her element—hiking the trails of our beautiful BC. When not in nature, Marion has been behind many of the most impactful legal decisions in BC.
Appointed to the bench early in her career, Marion quickly became a leader—making landmark rulings, training other judges, sitting on the Rules Committee and shaping law and life in British Columbia. Marion was awarded the Trial Lawyers Association of BC Judge of the Year Award in 2012, was appointed to the BC Law Institute's Board of Directors in August 2013 and was also admitted to the Civil Roster of Mediate BC in September 2014.
Today, she translates all of that experience and wisdom into her role as a sought-after mediator with a strong success rate, offering a wealth of strategic advice, insight and dispute resolution assistance to our clients and lawyers.
We are so proud to see her honoured in this way. Hats off to Marion, and cheers to many more years of continued success!
Read the full Advocate article about Marion here (2017, 75, Advocate 497).