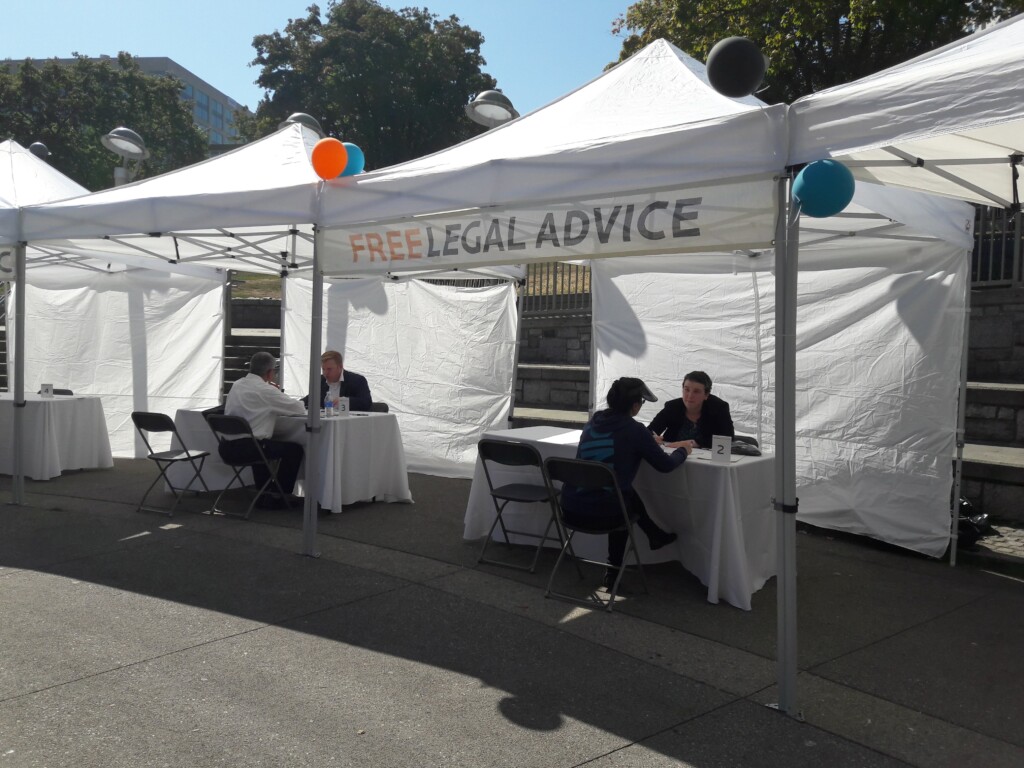 Clark Wilson was proud to join Access Pro Bono at the 12th Annual Pro Bono Going Public: Free Legal Advice-A-Thon.
This year, twelve lawyers from Clark Wilson donated their time at two open-air clinics in downtown Vancouver, where they volunteered in one-hour shifts to advise low- and modest-income individuals, including homeless people, who have limited access to traditional free legal advice clinics.
This event helps serve the public, spread awareness of the legal profession's efforts to increase access to justice in BC and raise funds to support Access Pro Bono's programs and projects.
Emily Clough, Partner at Clark Wilson and Chair of the firm's Pro Bono Committee, believes in the importance of giving back by providing pro bono legal support in ways that create significant impact. "This year, we had a record number of lawyers volunteer their time in service to our community at this event. At Clark Wilson, we are committed to supporting persons of limited means and charitable, religious, civic, community, governmental and educational organizations through pro bono work in areas that are meaningful to our lawyers," explained Emily. "This was an exceptionally rewarding experience and we are proud to support Access Pro Bono's critically important and effective programs year after year."
The team included Andrew Stewart, Anne Amos-Stewart, Bhagwant Dhaliwal, Catherine Repel, David Bowden, Emily Clough, Emily Raven, Gordon Behan, Jennifer Lowson, Meera Jain, Pat Williams and Roy Nieuwenburg. These participants volunteered at events on September 6th at Victory Square Park and September 13th at the Vancouver Art Gallery.
Visit the Access Pro Bono website to learn more.