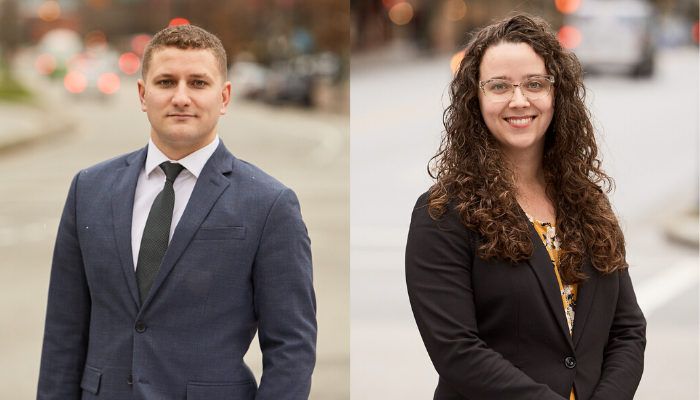 Clark Wilson LLP is pleased to welcome two new lawyers to our growing team:
Sam Shury, Associate
Commercial Real Estate | Indigenous Law
Sam is committed to providing timely and thorough service to our clients and adding value through business-oriented guidance. Sam leverages his experience working in business, real estate and consulting to provide thoughtful and strategic advice to our clients as they navigate the complex opportunities and risks that come with commercial real estate projects in British Columbia. He also enjoys serving as an advisor for Indigenous clients as they explore beneficial land development opportunities.
Sarah Tradewell, Associate
Family Law | Strata Property
Sarah uses compassion, patience and tact to help our clients as they navigate through unfamiliar legal territory. She takes the time to understand what is most important to each individual and why they feel that way. For our family law clients, she helps them structure their affairs as they enter relationships and seamlessly disentangle their lives as they exit relationships. For strata corporations and property managers, she is committed to finding progressive solutions to everyday disputes.
Please join us in welcoming Sam and Sarah to the CW team.