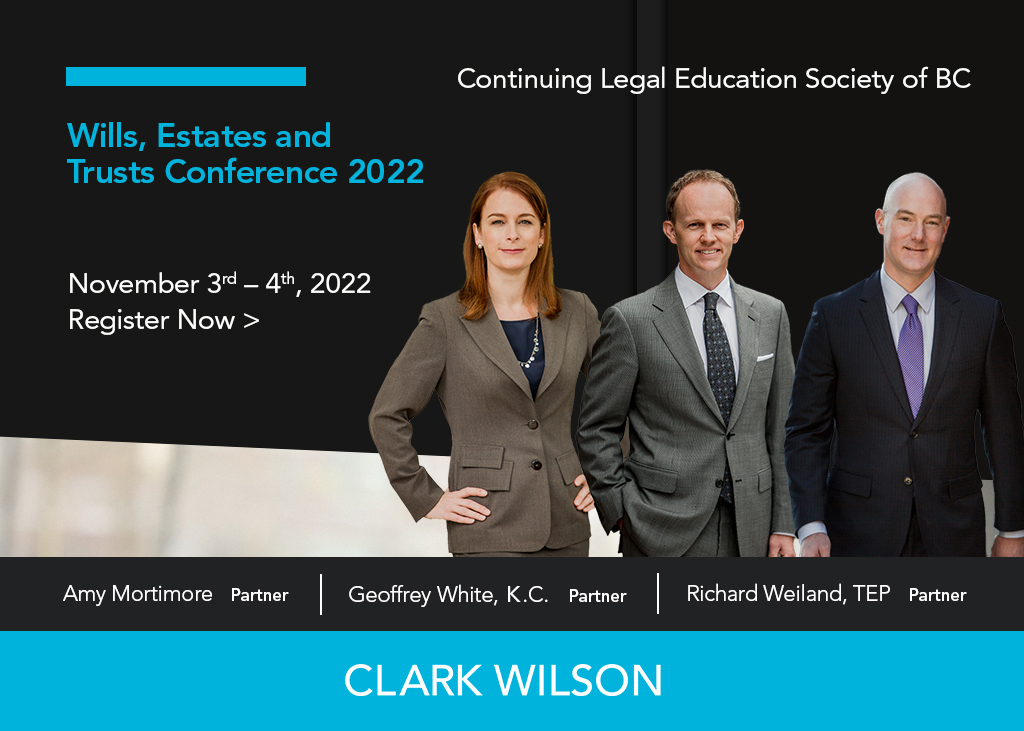 Join Clark Wilson Estate & Trusts co-chairs Amy Mortimore and Richard Weiland, TEP along with counsel Geoffrey White, K.C. as they present at the Continuing Legal Education Society of British Columbia's Wills, Estates and Trusts Conference 2022 on Thursday, November 3rd, and Friday, November 4th.
Disputes can arise both before and after death in the estate area and understanding how to resolve them through negotiation, mediation, arbitration, or the courts requires knowledge of applicable legal principles and practical expertise.
Estate planning is key to securing the future financial security of your clients and their families. To create well-designed estate plans that meet your clients' goals, you need to keep current on relevant law and techniques.
In this hybrid event, the experienced faculty will share their academic knowledge of the law and their practice experience to further your skills as an estate litigator to handle all types of trust and estate-related issues. A wide range of topics will be covered that will touch on many of the very common, and some complex, issues that arise when estate and asset planning has not yet been done or properly done, or where a valid will is still open for legal challenge.
You will leave this course better equipped both in your knowledge and skills in estate litigation proceedings. Join us and be an effective litigator for dealing with contentious estate matters.
Richard's session, "Alter Ego and Joint Partner Trusts: Beyond the Basics" will cover key topics including the use of powers of appointment to create remainder interest, restricting access to capital, choosing to avoid s. 75(2) income attribution, and including provisions to facilitate post-mortem tax planning.
Geoffrey's presentation, "Life in the Electronic Age of Wills" will examine rules and tips for electronic witnessing, digital wills (including creation, what happens post-signing, and probate), what to do with incapacity planning (PoAs & Rep Agreements), vetting for undue influence in the electronic environment, as well as practical tools including paperless options.
Amy's session, "Lesser Known Tools in Estate Litigation" will explore the differences between litigation guardians versus litigation representatives, marriage caveats, and consumer protection framework.
This conference is targeted at lawyers practicing in the areas of estates and trusts, and may also be of interest to accountants, financial planners, trust officers, wealth management specialists, and other estate planning professionals.
Event & Registration Information
The Continuing Legal Education Society of British Columbia
Wills, Estates, and Trusts Conference 2022
This hybrid event offers participants flexibility to attend in-person or virtually
Thursday, November 3rd and Friday, November 4th, 2022 from 9:00 am – 4:00 pm  (Pacific Time, Canada & US)