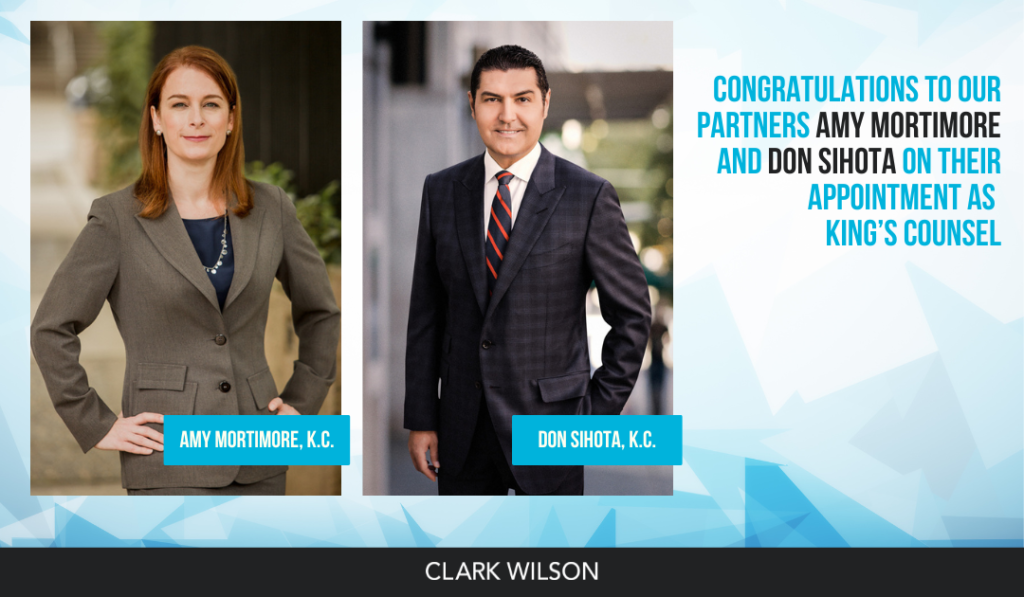 Clark Wilson is delighted to announce that Partners Amy Mortimore and Don Sihota have been recognized with the King's Counsel designation. This prestigious designation is a recognition of Amy and Don's exceptional legal skills, dedication and contributions to the legal profession.
"We are very proud that Amy and Don have been recognized as King's Counsel," said James Speakman, Clark Wilson's Managing Partner. "Their hard work and dedication to our clients, our firm and the legal profession are well recognized within our firm, and it's wonderful that they have been recognized externally. This designation is a testament to their unwavering commitment to excellence."
Amy Mortimore, Co-Chair and Partner of our Estates & Trusts and Estates & Trusts Opinions and Appeals groups and Partner of our Elder Law and Charities & Not-For-Profit Law groups, said, "I'm honoured to receive this appointment, and grateful to my Clark Wilson team, my family, and my friends for their support."
Don Sihota, Chair of our Business Succession group and Partner of our Private Company Mergers & Acquisitions and General Business Law groups, said, "I am truly honoured to be granted the title of King's Counsel. It is a privilege to be recognized by my peers and the legal community, and I pledge to continue upholding the high standards of professionalism, ethics, and legal excellence that come with this prestigious designation."
The King's Counsel designation is awarded by the provincial government and recognizes lawyers who have displayed exceptional legal expertise and contributions to the legal profession while demonstrating professional integrity and good character.
To learn more about the designation, click here.
Congratulations Amy and Don!