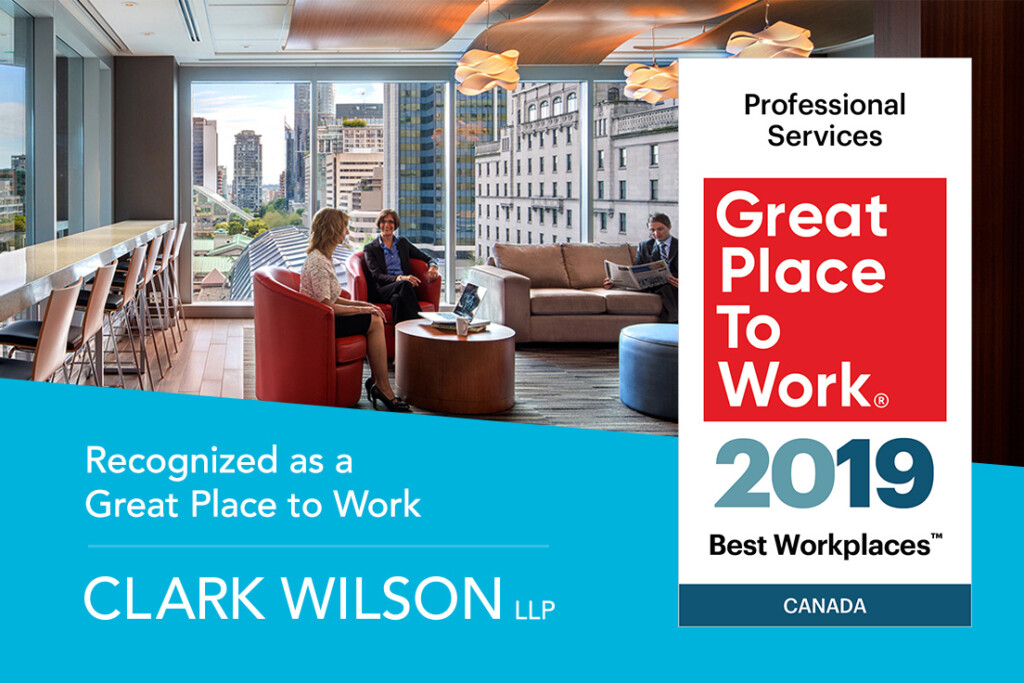 We are proud to announce that Clark Wilson has been named on the 2019 list of Best Workplaces™ in the Professional Services category by the Great Place to Work® Institute Canada.
The Professional Services category includes the top Canadian organizations that offer customized, knowledge-based services to clients, such as lawyers, doctors, accountants, architects, engineers, and advertising professionals. Employees complete an anonymous survey, answering questions about transparency of communication, degree of collaboration, quality of benefits programs, opportunity for professional development and support for work-life balance.
"At Clark Wilson, our people are our greatest asset. They make us a successful firm and a certifiably great place to work," explains James Speakman, Managing Partner. "It is rewarding to know that our employees recognize our commitment to diversity and inclusion, which is rooted in our core values of caring, quality, teamwork and trust."
Learn more about our commitment to providing a collegial working environment and the Great Place to Work certification by Great Place to Work® Institute Canada.
About Great Place to Work®:
Great Place to Work® is the global authority on high-trust, high-performance workplace cultures. Conducting the world's largest workplace study, surveying over 8,000 organizations representing more than 10 million employees in more than 50 countries, GPTW provides tremendous understanding of effective business cultures and the increasingly complex marketplace. Through proprietary assessment tools and services, GPTW recognizes the world's Best Workplaces™ in a series of national lists including those published by The Globe & Mail (Canada) and Fortune magazine (USA). GPTW provides the benchmarks and expertise needed to create, sustain, and recognize outstanding workplaces, and it supports clients as this accelerating pace of change compels organizations to continuously adapt, innovate and thrive.