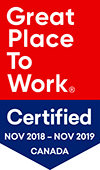 Our successful and busy Financial Services Group seeks a 3-8 year call associate to add to our team. This is a great opportunity for a self-motivated, confident and keen associate to actively contribute to a high performing, service-focused practice and to develop a vibrant practice in a dynamic and progressive firm.
The ideal candidate will have skills and experience in the following areas:
lending transactions (both lender and borrower side);
completing loan transactions involving a variety of security structures;
well versed in PPSA and real property security issues; and
exposure to real estate acquisitions and developments would be an asset.
Additionally, candidates will also possess the following attributes:
a client centered approach, with excellent communication skills, both written and oral;
the ability to handle the volume of a busy practice;
excellent organizational skills, with exceptional attention to detail;
the ability to exercise sound judgment, discretion, confidentiality, solve problems, and handle a high level of responsibility;
ability to keep senior lawyers apprised at all times;
strong analytical and drafting skills;
entrepreneurial spirit with ambition to build a long term practice and have an eye out for partnership; and
the ability to work both independently and as part of a large collegial team