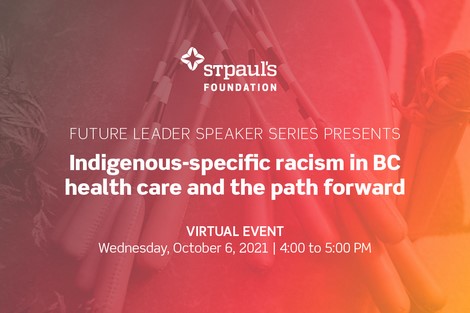 We are pleased to share that Clark Wilson partner Chantal Cattermole and the St. Paul's Foundation Committee have organized this free and timely webinar, "Indigenous-specific Racism in BC Health Care and the Path Forward" happening on Wednesday, October 6th as part of the Foundation's Future Speaker Series.
In this session, attendees will hear from Indigenous wellness and reconciliation experts at Providence Health Care (PHC). Learn how PHC is recognizing the findings from In Plain Sight, a 2020 report addressing racism, stereotyping, and discrimination against Indigenous peoples in the BC health care system.
During this webinar, participants will explore how to improve accountability for Indigenous-specific racism, increase cultural safety and expand Indigenous leadership across all industry sectors.
Guest speakers include Harmony Johnson, Interim Vice President of Indigenous Wellness & Reconciliation and Sheri Hundseth, Director of Indigenous Relations and Community Engagement of Providence Health Care.
---
Date & Time:
"Indigenous-specific Racism in BC Health Care and the Path Forward" webinar
Wednesday, October 6th, 2021 | 4:00pm – 5:00 pm Pacific Time
To learn more about this session and how to register, visit: https://us06web.zoom.us/webinar/register/WN_sQfGmQJTQGyotMV40YsBIw