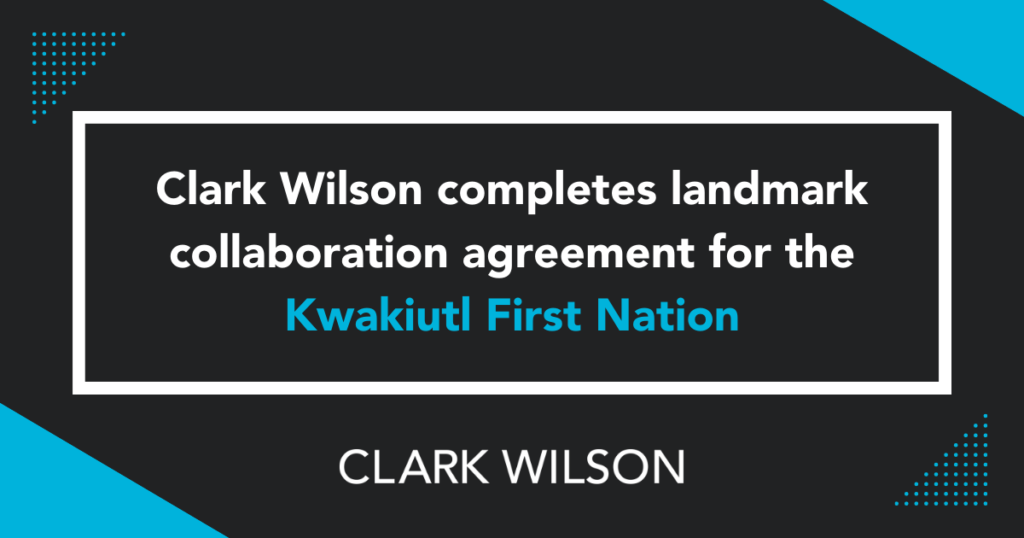 Clark Wilson's Saul Joseph, Melanee Bryniawsky, and Mike McDonald. Q.C. of our Indigenous Law Group recently completed a landmark Collaboration Agreement between our client, the Kwakiutl First Nation ("Kwakiutl"), and the British Columbia Environmental Assessment Office ("EAO").
Orca Sand and Gravel Ltd. ("Orca") currently operates a sand and gravel quarry in Kwakiutl's traditional territory near Port McNeill, BC. Orca plans to significantly expand its current operations to include the Black Bear Gravel Quarry (the "Black Bear Project"); this addition would require a substantial amendment to Orca's existing environmental assessment certificate, and thus, require an environmental assessment as to the impacts of the proposed expansion. The Collaboration Agreement creates a Kwakiutl-led environmental assessment for the proposed Black Bear Project.
The Collaboration Agreement contains many important processes and concepts including:
Kwakiutl acting as a reviewer, co-assessor and decision-maker;
Kwakiutl and the EAO must support the meaningful implementation of the United Declaration on the Rights of Indigenous Peoples ("UNDRIP") and further reconciliation;
Kwakiutl protocols, knowledge and traditions (it's own legal framework) will be imbued and applied throughout the entire environmental assessment process, including in dispute resolution that may occur between Kwakiutl and the EAO;
Kwakiutl will have the opportunity to exercise it's Free, Prior, and Informed Consent to the Project; and
Kwakiutl has the authority to determine the scope of its rights and interests and to author relevant chapters in the final decision package.
This Collaboration Agreement sets out a new and forward-looking approach to carrying out environmental assessments and incorporates key principles of UNDRIP.
The team was grateful to attend the historic signing ceremony held in the Kwakiutl Big House in Fort Rupert, BC on May 19th