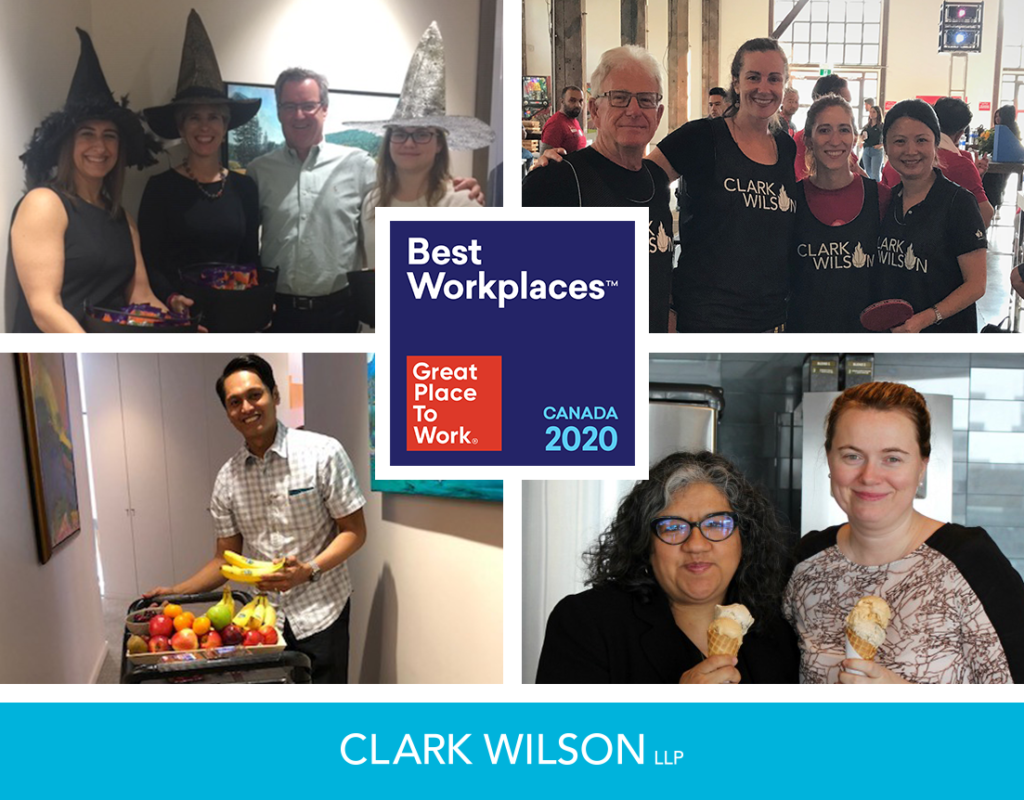 Clark Wilson is pleased to share that we have been named on the 2020 List of Best Workplaces™ in Canada by Great Place to Work® Institute Canada.
"We are proud that our commitment to our core values of caring, quality, teamwork and trust are being recognized by both our employees and external organizations" said James Speakman, Managing Partner at Clark Wilson.
The list includes 50 organizations within the 100-999 employees category that have been recognized for their dedication to their employees and workplace culture. The top companies are selected based on two criteria: two-thirds of the total score comes from confidential employee survey results and the remaining one-third comes from an in-depth review of the organization's culture. With over 400 companies applying, Clark Wilson is proud to have made the list, as we continue to exemplify the five-trust building dimensions of Great Place to Work: credibility, respect, fairness, pride and camaraderie.
At Clark Wilson, our people are our greatest asset. Our team is comprised of skilled individuals who are focused on developing a successful career, delivering exceptional client service and building long-lasting relationships. Our strong profile has earned us consistent recognition as one of Western Canada's leading law firms. Learn more about our unique culture and dedication to our employees' development, as well as our certification as a Great Place to Work.
About Great Place to Work®:
Great Place to Work® is the global authority on high-trust, high-performance workplace cultures. Conducting the world's largest workplace study, surveying over 8,000 organizations representing more than 10 million employees in more than 50 countries, GPTW provides tremendous understanding of effective business cultures and the increasingly complex marketplace. Learn more at www.greatplacetowork.ca.