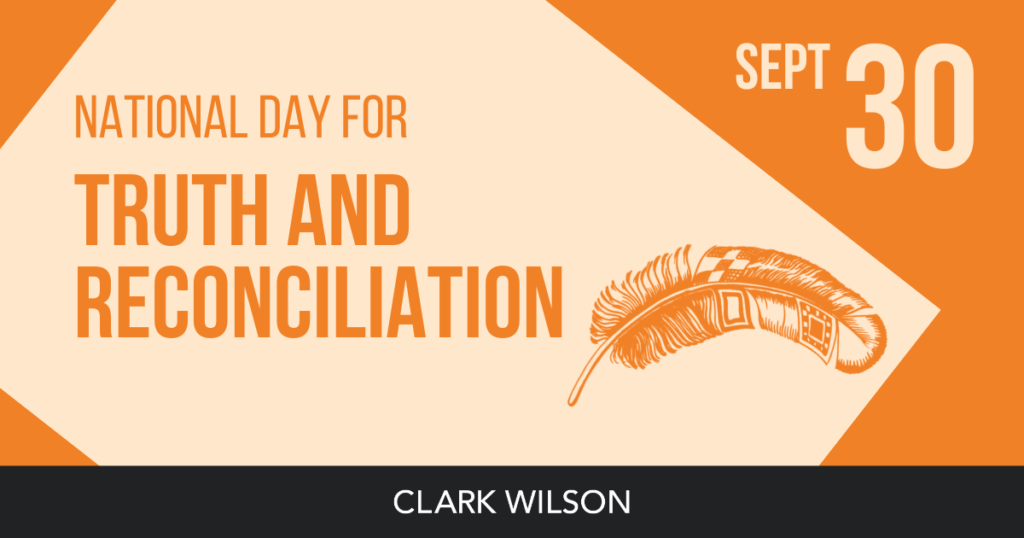 The federal government is taking steps to address Canada's history of colonization and the resulting neglect and forced assimilation of Indigenous peoples. These steps, including the creation of the National Day for Truth and Reconciliation, are due in large part to the activities and recommendations of the Truth and Reconciliation Commission of Canada ("TRC"). The TRC was tasked with gathering information from survivors and other sources to inform Canadians about the harms perpetuated by various Canadian governments and churches against Indigenous peoples through the Residential School system. The TRC released its findings and recommendations in a report detailing these abuses and included a list of 94 calls to action ("Calls to Action") to meaningfully contribute toward reconciliation.
Clark Wilson wholeheartedly supports the Calls to Action. In response to Calls to Action 27 and 92, we have engaged in cross- and intercultural competency training sessions firm-wide to support reconciliation through business for all clients engaged in the Indigenous context, and we are in the process of finalizing our own Reconciliation Action Plan. We are taking direction from our Indigenous leaders, lawyers, and staff who are actively involved in representing Nations and advancing reconciliation. We will implement the Plan in a spirit of profound respect for Indigenous peoples and their history, culture, traditions, laws, and institutions.
Additionally, Clark Wilson is proud to sponsor the Canadian Bar Association of BC's Truth & Reconciliation: Working Together series. This 3-part webinar series focuses on transforming how we work and engage with Indigenous communities to help legal professionals discover how to develop strong, symbiotic business relationships with Indigenous peoples. The first session provides an overview of Indigenous laws, legal orders, and principles that intersect with everyday life and how legal practitioners can work effectively toward reconciliation with their clients. Part two explores transforming Indigenous intercultural awareness training into new ways of working with Indigenous clients and communities. The third and final session, Building Business Relationships, will be presented by Clark Wilson Indigenous Law Co-Chair and Partner Saul Joseph and Associate Jared Knott who will discuss how legal professionals can build strong and healthy business relationships with Indigenous clients and communities.
At Clark Wilson, our goal is to contribute to reconciliation through our actions, including the ongoing education of our people and by supporting business between and with Indigenous people.
The National Day for Truth and Reconciliation is an opportunity to reflect, educate, digest, and act which is why we will once again be closing our office on Friday, September 30th.
We will provide our people with more information about the history and impacts of Residential Schools and share opportunities to participate in events and activities. Above all, we will take pause to reflect on the tragic history and ongoing impacts of Residential Schools, the lost children and survivors of Residential Schools, their families, and communities.