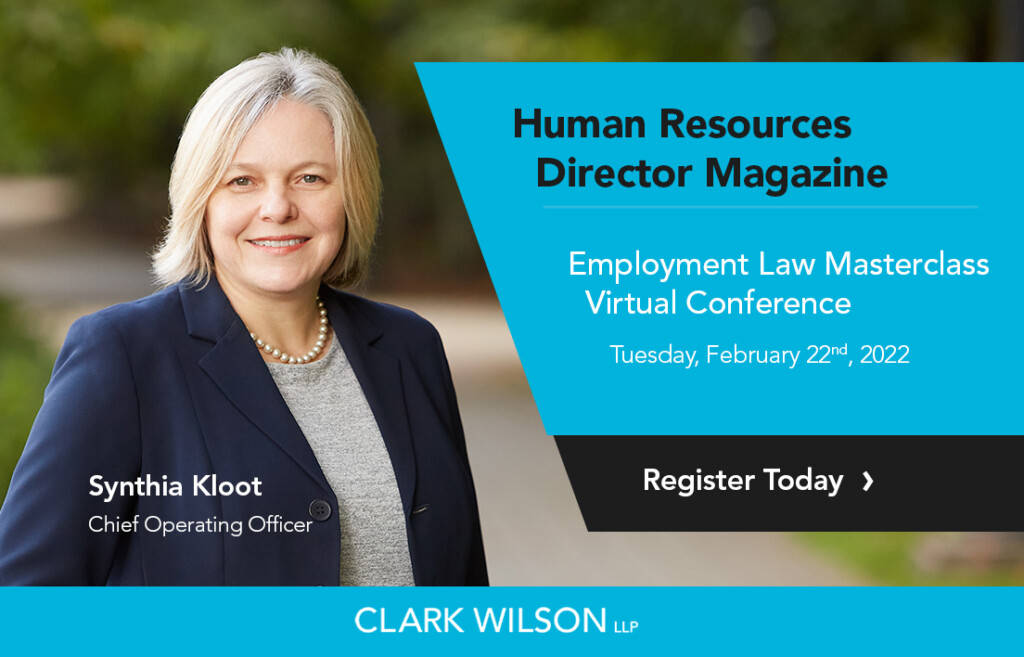 The Employment Law Masterclass Vancouver is an event designed to provide busy HR professionals with a comprehensive program focusing on the latest legal updates and developments affecting employers' workforce obligations. Covering topics ranging from workplace vaccine mandates to ensuring compliance with new health and safety regulations, this employment law line-up will have the answers you need to help you manage your most pressing HR challenges.
With employment law becoming increasingly complex in a more unpredictable working world, organizations must ensure they are aware of best practices and understand how to avoid potential pitfalls as they manage their workforce needs.
This masterclass will answer critical questions such as:
How will changes to employment standards impact your workforce strategy?
What can organizations do to improve their retention efforts?
Which trends will have the biggest impact on employers' future legal duties and obligations?
Join our Chief Operating Officer Synthia Kloot for an engaging and lively panel discussion on "Diversity, Equity, and Inclusion in the Workplace – a Practical Update for HR Professionals".
This session will begin with a brief update on pay equity legislation and the new federal Pay Equity Act, followed by the panel discussion will follow with a conversation on the rules, regulations, and obligations employers need to be mindful of when integrating diversity and inclusion policies and protocols into the workplace. Panelists will also share some practical tips, advice, and best practices for achieving positive DEI outcomes.
This panel discussion will cover key topics including:
An update on provincial and federal human rights legislation, and the typical vulnerabilities for employers
Addressing gender identity and expression, as well as multigenerational workforces
Ensuring policies are in place and progress is measured and documented
Exploring practical ways in which employers can effectively implement DEI programs in a hybrid work environment
Discussion on how DEI efforts can be more sustainable and why equity is critical to a program's future success
---
Date & Time:
Employment Law Masterclass Vancouver
Tuesday, February 22, 2022 | 8:45 am to 4:00 pm Pacific Time
Watch the video: