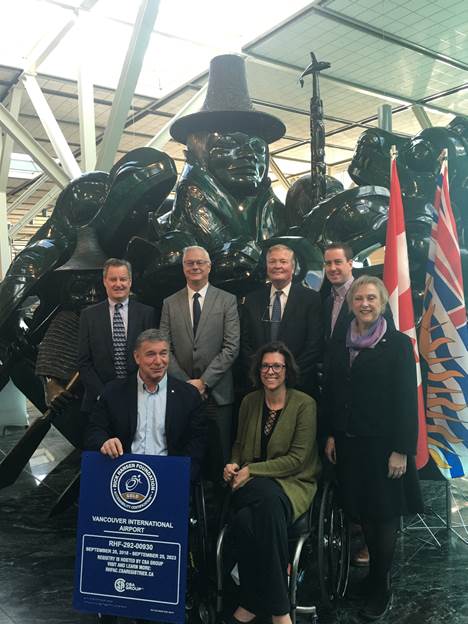 I took a trip out to YVR on the Canada Line this morning to attend an announcement by our clients, the Vancouver International Airport Authority and the Rick Hansen Foundation. YVR has become the first airport in the world to be awarded the Accessibility Certified Gold rating through the Foundation's RHFAC program.
News release: http://www.yvr.ca/en/media/news-releases/2018/rick-hansen-foundation-awards-yvr-highest-certification-for-accessibility
It's pretty cool what they do in terms of designing buildings and public spaces, like YVR, for accessibility. There are the obvious things, like wider aisles and ramps instead of chairs, but there's a bunch that goes into signage, lighting, creating "depth" for those with diminished sight (which is also a symptom of early onset dementia) and other means to help individuals with disabilities manage their way through the airport.
Most interesting to me was the use of floor treatments to indicate what type of area you're in. At YVR, if the floor is tile or hard surface, you're heading to an exit. If it's carpet, you're heading to a boarding area and if it's wood or laminate or other you're in a retail area. Apparently, we all learn subconsciously and act accordingly.
I was also pleased with the genuinely appreciative and warm words spoken during the presentation about our partner, Lyall Knott Q.C., and his effort and initiative as a founding Co-Chair of the Rick Hansen Foundation and a founding director of YVR in pushing for accessibility for the disabled.
Both YVR and the Rick Hansen Foundation are world leaders in their areas, and for them to come together on this initiative is inspiring for all Canadians.
— JS