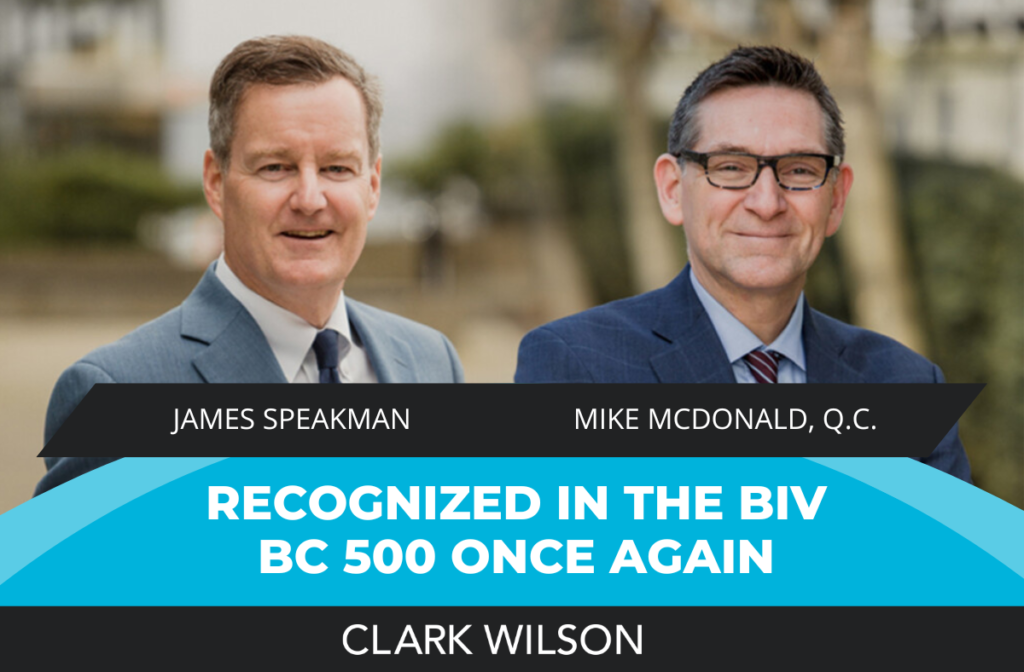 Clark Wilson's Managing Partner, James Speakman, and Partner Mike McDonald, Q.C. have once again been recognized in Business In Vancouver's BC 500 List.
The list, which is in its second year, features business leaders who have a notable impact on B.C.'s communities, industries, and economy. In BIV's words, "They are visionaries, innovators and trailblazers. They embody the values of modern leadership: engagement, trust, corporate citizenship, inclusion and innovation."
James Speakman was recognized in the Law – Managing Partners section of the BC 500 list.
"It is humbling to again be included in this list and to be counted among the other managing partners on the list," said Mr. Speakman. "I have had the privilege of conducting business with incredibly passionate people who have helped shape this province, many of whom are on this list. I am proud to share this honour with the entire team at Clark Wilson who continue to work tirelessly to help our clients succeed."
Mike McDonald, Q.C. was recognized in the Law – Indigenous Rights section of the BC 500 list.
"It's an honour for me to work with and support Indigenous and Business leaders to achieve their goals in business, governance and prosperity," said Mr. McDonald. "I'm truly grateful and humbled to be a part of economic reconciliation resulting in economic and social success in B.C."
Click here for more information on the BIV BC 500 list.