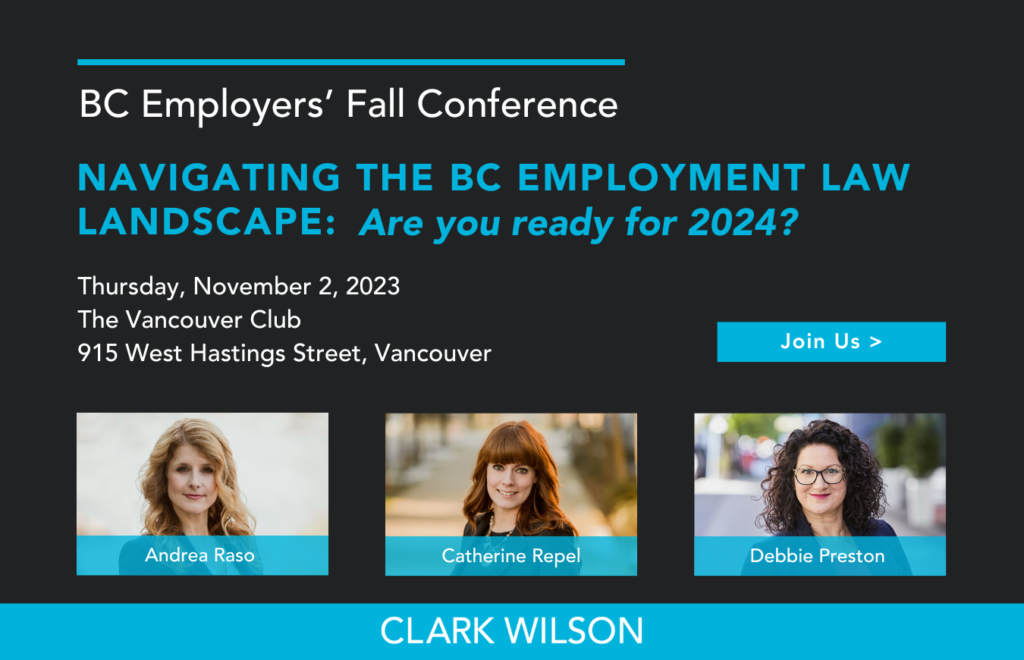 Business owners and human resources professionals won't want to miss this timely and informative 90-minute session exploring emerging employment topics, including how to handle rising remote work requests and medical leaves, exploring mandatory versus optional employee accommodations, plus an overview of three new laws that will be effective in January 2024 (Pay Transparency Act, Modern Slavery Act, and amendments to the Workers Compensation Act).
What We'll Cover:
Remote work requests: Clarifying whether employers can force employees to return to the office and how to manage requests based on convenience and personal preferences
Responding to medical leaves: Covering what documentation and information employees are required to provide, and what to do about ambiguous medical notes
New legislation that will affect businesses and employers: A primer on the new legislation, how to successfully prepare for its roll-out, plus best practices for compliance
There will be an interactive Q&A session with our panel of Employment & Labour lawyers at the end to answer participants' final questions.
Date
Thursday, November 2nd, 2023
Time
8:30 am – Registration & Breakfast
9:00 – 10:30 am – Seminar
10:30 – 11:00 am – Q&A
Location
The Vancouver Club
915 West Hastings Street, Vancouver
(See the Vancouver Club attire house rules here.)
Cost
Complimentary
How to Register
Space is limited! If you are interested in attending, please RSVP to events@cwilson.com or call 604.891.7706.
We look forward to seeing you there!