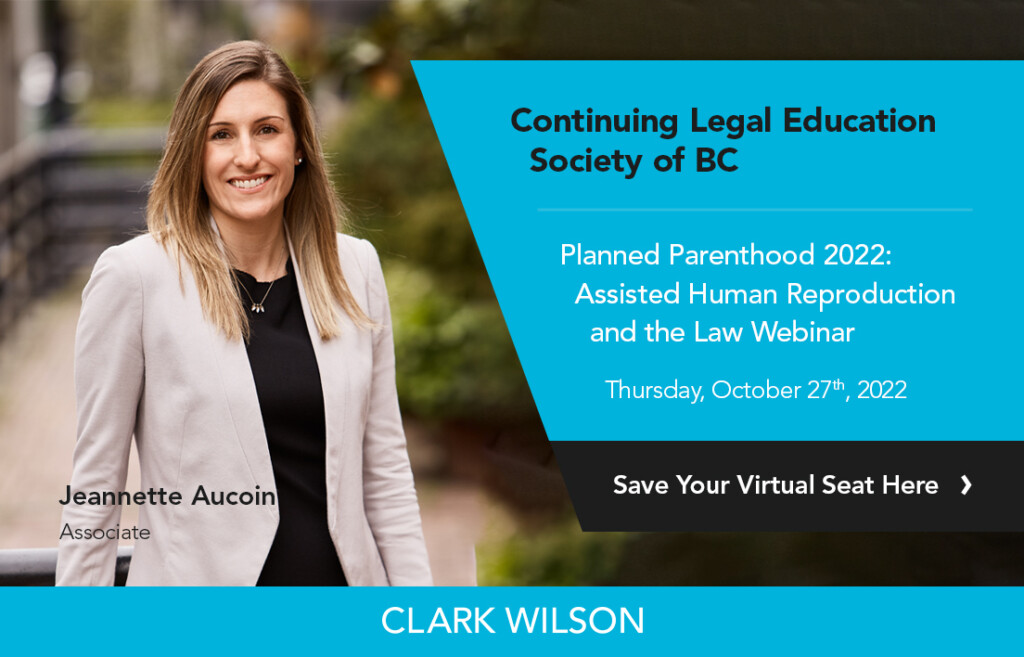 Join Clark Wilson Family Law lawyer Jeannette Aucoin as she presents at the Continuing Legal Education Society of British Columbia's Planned Parenthood 2022 virtual conference focusing on assisted human reproduction and the law on Thursday, October 27th.
As family forms evolve and more and more people access assisted reproductive technology to create families, the law is working hard to catch up. Once a subset of family and estates law, fertility law is emerging as a distinct practice area with its own best practices and challenges.
In addition to offering a primer on the practice of fertility law, this event will explore advances in reproductive medicine, the intersections of fertility law with wills/estates and family law, advanced issues in agreement drafting, cross-border practice and international surrogacies, and all the questions you never thought could be asked.
Jeannette's session, "Review of Relevant Assisted Reproductive Technology Legislation" will cover key topics including parentage under the Family Law Act, a review of the Assisted Human Reproduction Act and relevant regulations, as well as the birth registration process in British Columbia.
This conference is aimed at family law lawyers and those whose practice is impacted by assisted reproductive technologies, as well as lawyers working with the LGBTQIA2S+ community. This course may also be of interest to wills, estates, and trusts lawyers.
After attending Planned Parenthood 2022, participants will:
> Understand who is now considered "family"
> Be aware of the medical side of a fertility file
> Gain insight into assisted reproductive technology legislation or international fertility files
> Understand advanced issues in fertility law and have answers to your questions
> Be aware of the intersections between estates and family law
---
---
Event & Registration Information
The Continuing Legal Education Society of British Columbia
Planned Parenthood 2022: Assisted Human Reproduction & The Law Virtual Conference
Thursday, October 27th, 2022 from 9:00 am – 4:00 pm  (Pacific Time, Canada & US)