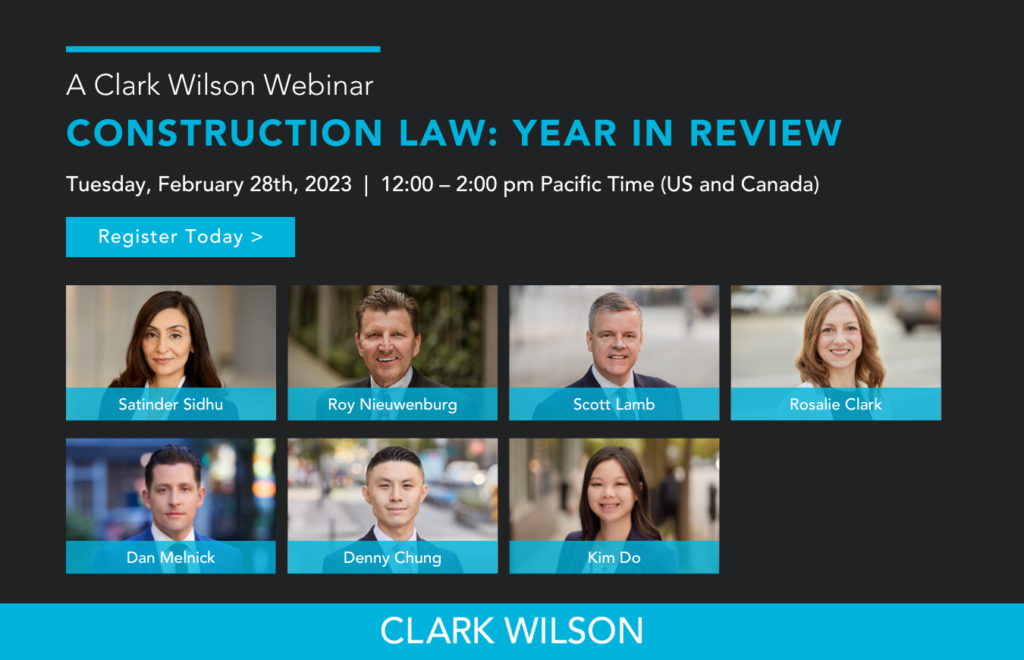 Successful construction projects depend on a solid understanding of the legal framework in which the parties operate. In 2022, Canadian courts considered a number of construction cases and disputes. Clark Wilson's Infrastructure, Construction & Procurement lawyers have critically considered these cases and want to share their insight with you to help construction professionals successfully operate in a risk-prone industry.
In this webinar, attendees will learn about key findings, principles and developments in construction claims over the past year. The cases we will discuss will consider the following topics:
Builders Lien Update — the procedural requirements under the Builders Lien Act, what lands can be liened, time limits to file and damages for wrongful filing
Construction Defects — what is the liability of developers?
Procurement — blacklisting bidders from procurement opportunities
Bonds — what are the consequences of misrepresentation?
Contract Requirements — dealing with pay-when-paid clauses and the impact of parties' conduct on contract interpretation
Update on Prompt Payment Legislation — lessons learned from other provinces and what to expect in B.C.
This complimentary webinar will be hosted by Satinder Sidhu (Moderator), Roy Nieuwenburg, K.C., Scott Lamb, Rosalie Clark, Dan Melnick, Denny Chung and Kim Do.
Date & Time:
February 28, 2023 | 12:00 – 2:00 pm Pacific Time (US and Canada)
Register Here:
Click here to register.