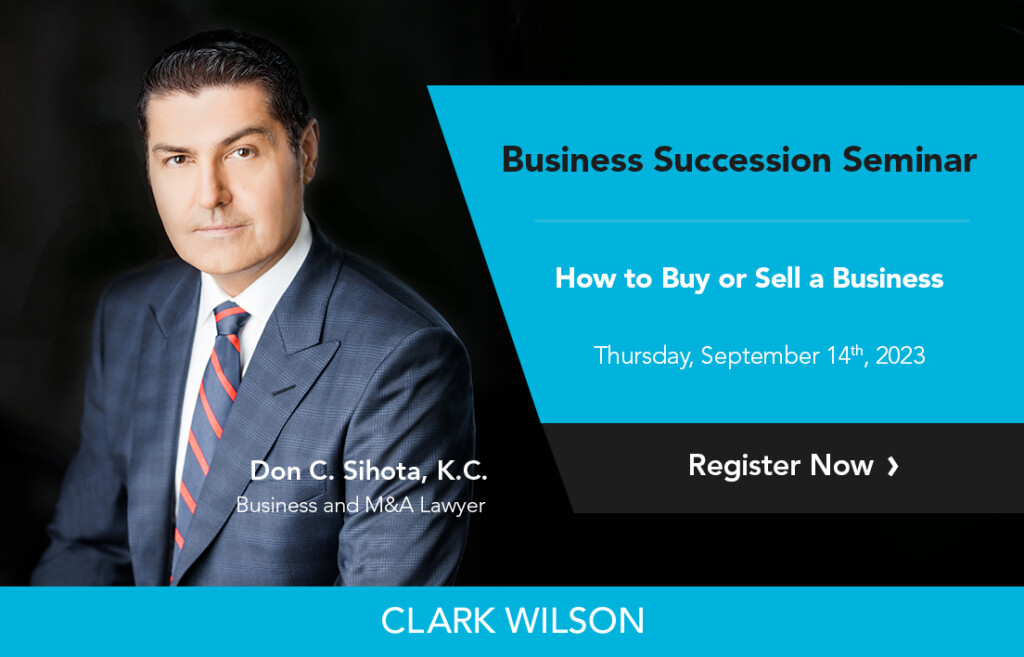 Are you thinking of buying or selling a business?
If so, you won't want to miss Don C. Sihota's Business Succession Seminar on Thursday, September 14th. During the half-day seminar, you'll benefit from Don's 30+ years of experience as a mergers & acquisitions lawyer as he explains how to:
> Prepare your business for sale to ensure a smooth exit
> Determine the value of your business so you aren't leaving money on the table
> Structure the best deal to protect your wealth
> Negotiate to your advantage when buying or selling a business
Don will also be joined by experts in tax and finance to give you a well-rounded understanding of buying or selling a business efficiently and effectively. They are Axel Christiansen, Partner at Relay Transition Partners, Derek Strong, Regional Director at Roynat Capital, and Kevin Walsh, Tax Partner at Walsh King LLP.
Plus, your registration includes a free one-hour consultation with each speaker.
Learn more about the seminar and secure your spot here: https://bit.ly/3OXI8Ej