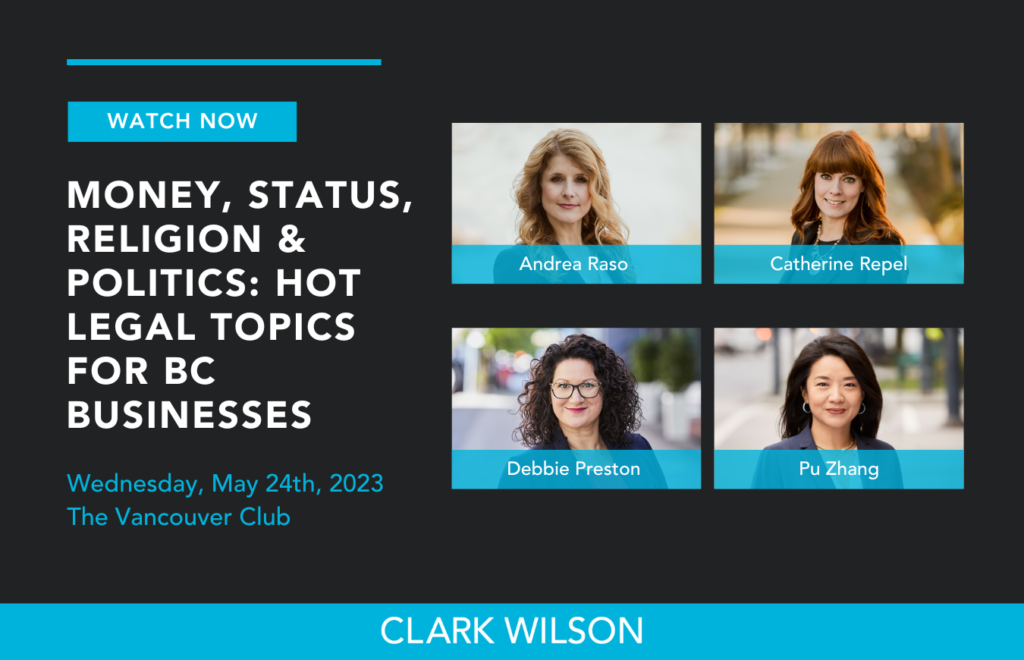 On May 24, 2023, our Employment & Labour group hosted a seminar, "BC Employers' Spring Conference | Money, Status, Religion & Politics: Hot Legal Topics for BC Businesses". Speakers included Andrea Raso (Moderator, Partner and Chair of our Employment & Labour group), Debbie Preston (Associate), Catherine Repel (Associate) and Pu Zhang (Immigration Consultant).
In this webinar, attendees explored emerging employment topics, including pay transparency, worker classifications (and the cost of getting it wrong), accommodations, contract termination clauses, lessons learned from vaccination mandates in the workplace, and hiring temporary foreign workers.
What was covered —
Employee vs. Independent Contractor: Clarification around the legal distinctions between employees and legal contractors to ensure proper classification and avoid costly litigation
Religious and Family Accommodation: Summarizing the legal obligations for accommodating employees' religious beliefs and family status in the workplace
Enforceability of Contractual Termination Clauses: Examining recent legal developments and discussing strategies for crafting enforceable termination clauses
New Pay Transparency Legislation: An overview of new employer requirements to disclose salary ranges and best practices for compliance
Lessons Learned from Vaccine Mandates: Real-world examples and key takeaways from implementing a vaccine mandate in the workplace
Employer Compliance Inspection under International Mobility Program: A summary of the inspection regime and how to ensure compliance when hiring temporary foreign workers
Watch or listen to the seminar and download a copy of the presentation slides and handout below. If you have any questions on the topics covered, please reach out to Andrea Raso at araso@cwilson.com.
If you'd like to sign up for our Employment & Labour newsletter, Work Place Post, please click here.
Click here for the Powerpoint slides
Click here for the handout regarding the International Mobility Program
Click here for the Video