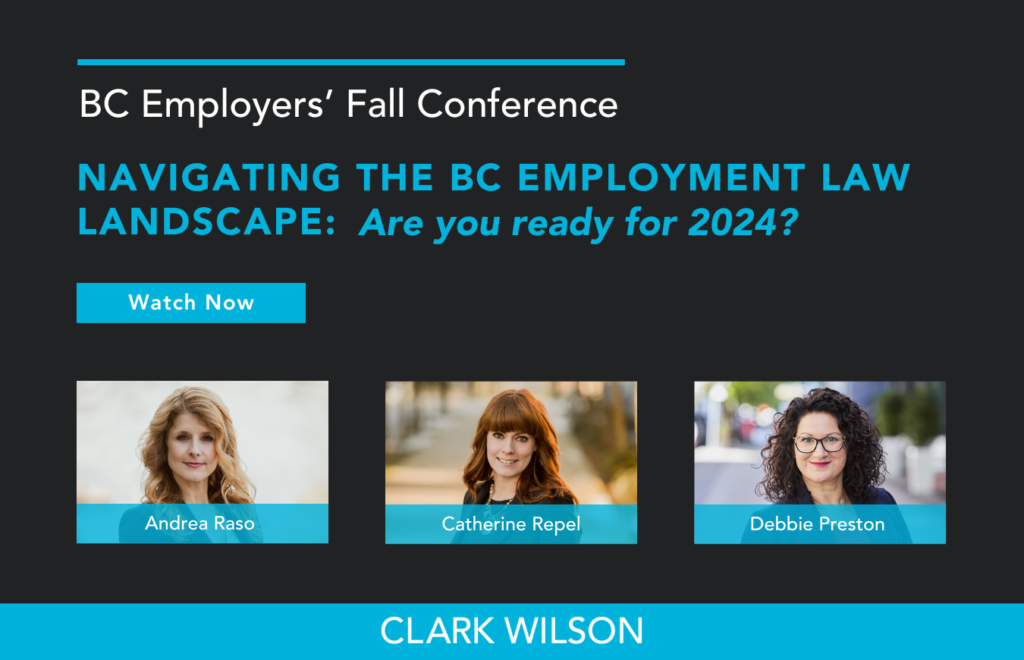 On November 2, 2023, our Employment & Labour group hosted a seminar "BC Employers' Fall Conference – Navigating the BC Employment Law Landscape: Are you ready for 2024?" Speakers included Andrea Raso (Moderator, Partner and Chair of our Employment & Labour group), Catherine Repel (Associate) and Debbie Preston (Associate).
In this seminar, they discussed how to handle rising remote work requests and medical leaves, exploring mandatory versus optional employee accommodations, plus an overview of three new laws that will be effective in January 2024 (Pay Transparency Act, Modern Slavery Act, and amendments to the Workers Compensation Act).
What We Covered —
Remote work requests: Clarifying whether employers can force employees to return to the office and how to manage requests based on convenience and personal preferences
Responding to medical leaves: Covering what documentation and information employees are required to provide, and what to do about ambiguous medical notes
New legislation that will affect businesses and employers: A primer on the new legislation, how to successfully prepare for its roll-out, plus best practices for compliance
Watch or listen to the seminar and download a copy of the presentation slides below. If you have any questions on the topics covered, please reach out to Andrea Raso at araso@cwilson.com.
If you'd like to sign up for our Employment & Labour newsletter, Work Place Post, please click here.
Click here for the PPT slides
Click here for the Video