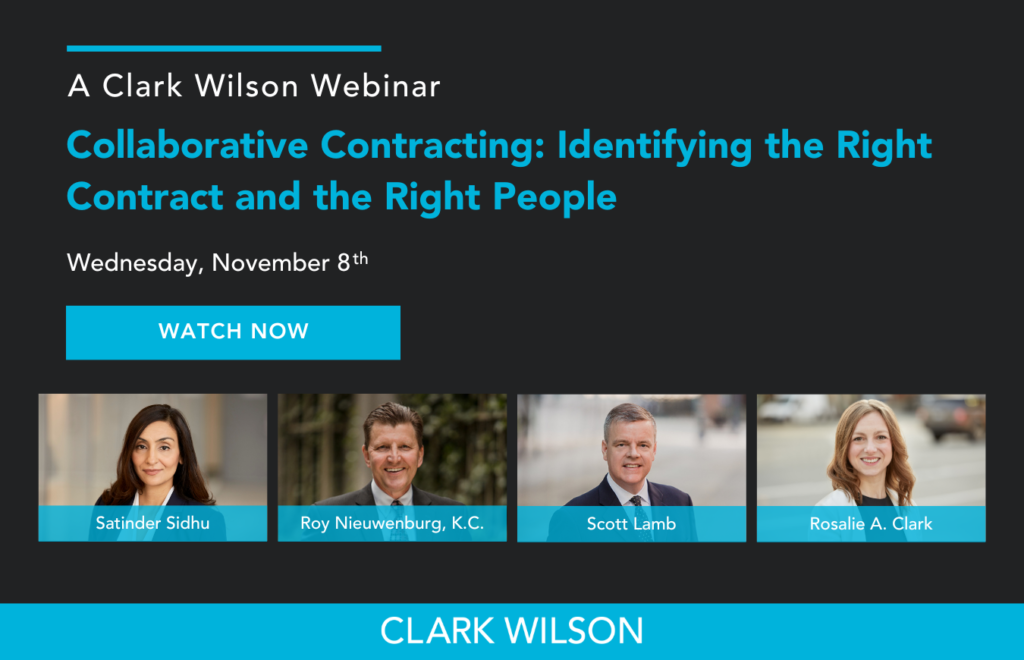 On November 8, 2023, our Infrastructure, Construction & Procurement group hosted a webinar, "Collaborative Contracting: Identifying the Right Contract and the Right People". Speakers included Satinder Sidhu, Roy Nieuwenburg, K.C., Scott Lamb and Rosalie A. Clark.
During the webinar, construction project owners, contractors and lawyers benefitted as our Infrastructure, Construction & Procurement lawyers shared their knowledge and insight on the benefits and risks of collaborative contracting models. The webinar covered:
Which commonly used construction contracts gave rise to collaborative contracting models.
Why the construction management model is one of the more popular and successful forms of collaborative contracting.
How standard industry construction management contract forms and supplementary conditions can help overcome cost escalation, shortened procurement processes and uncertainty over design and costs.
How the integrated project delivery model is gaining popularity in Canada by seeking to bring owners, consultants and contractors together as a team throughout the entire project lifecycle.
The pitfalls that must be considered when structuring and managing the obligations of a team.
Watch or listen to the seminar and download a copy of the presentation slides below. If you have any questions on the topics covered, please reach out to Satinder Sidhu at ssidhu@cwilson.com.
If you'd like to sign up for our Construction Law Bulletin newsletter, please click here.
Click here for the PPT slides
Click here for the Video