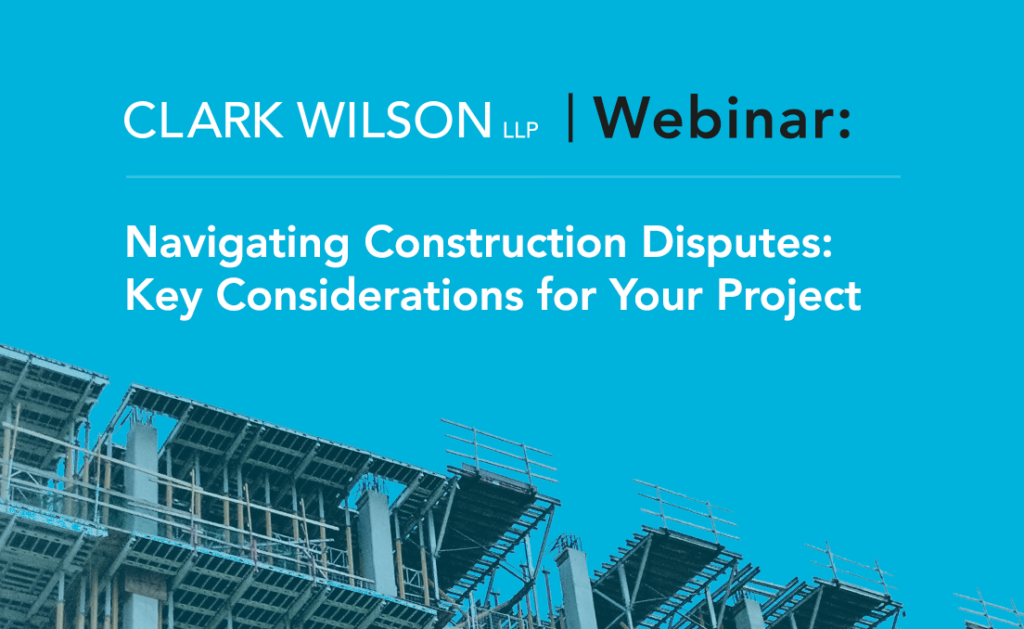 Our Infrastructure, Construction and Procurement Group recently hosted a webinar that was crafted to assist construction professionals navigate disputes during these unprecedented times. The webinar focused on a number of topics that require regular consideration on most construction projects including:
Construction Delays: A primer on notice and what can be claimed as damages for construction delays (Scott Lamb & Michael Larsen)
Liens, CPLs and Other Charges: An analysis of liens, CPLs and other charges – how to register, remove and manage these charges (Anna Sekunova)
Bond Basics: An overview of performance bonds and labour and material payment bonds, including benefits and potential pitfalls to be aware of (Rosalie Clark)
Dispute Resolution Options for Construction Projects: An examination of dispute resolution processes under CCDC contracts and other dispute resolution options (Satinder Sidhu)
---
Our Infrastructure, Construction & Procurement Group have created the Construction Law Bulletin to keep you informed of topical and relevant information as it pertains to the construction industry. Our expertise helps our clients understand how the law may affect their business. The purpose of the bulletins is to ensure you have the necessary information available to you, so that you may better make informed decisions. Sign up for it here.
As the COVID-19 pandemic continues to impact our communities, Clark Wilson's Infrastructure, Construction & Procurement Group has created a webpage to centralize all relevant information and resources to better help you navigate your business. If you have any specific questions, please contact one of our lawyers and we will respond to you as quickly as possible.
For more information on Impacts on Construction Projects in BC during COVID-19, click here to see our previous webinar.