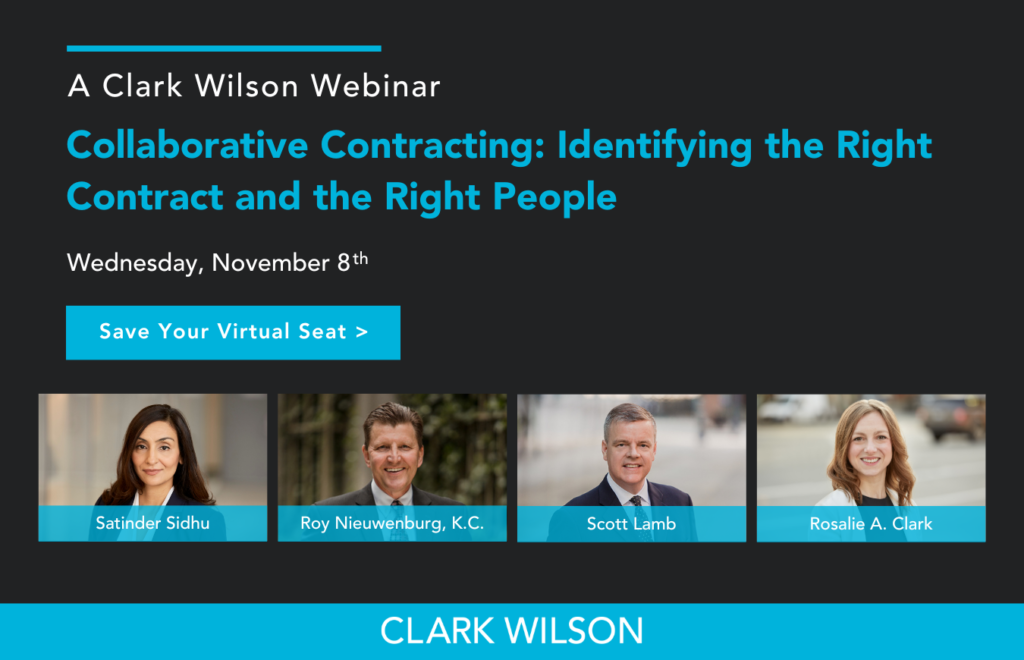 Save your seat for our complimentary construction law webinar, "Collaborative Contracting: Identifying the Right Contract and the Right People."
Construction project owners, contractors and lawyers will benefit as our infrastructure, construction & procurement lawyers share their knowledge and insight on the benefits and risks of collaborative contracting models. The webinar will cover:
Which commonly used construction contracts gave rise to collaborative contracting models.
Why the construction management model is one of the more popular and successful forms of collaborative contracting.
How standard industry construction management contract forms and supplementary conditions can help overcome cost escalation, shortened procurement processes and uncertainty over design and costs.
How the integrated project delivery model is gaining popularity in Canada by seeking to bring owners, consultants and contractors together as a team throughout the entire project lifecycle.
The pitfalls that must be considered when structuring and managing the obligations of a team.
This webinar will be hosted by Satinder Sidhu, Roy Nieuwenburg, K.C., Scott Lamb, and Rosalie A. Clark.
CPD Credits:
The Law Society of British Columbia has approved this webinar for 2.0 hours of CPD credits.
BC Housing has approved this webinar for 2.0 hours of CPD credits under the "legal issues" category.
Date & Time:
November 8th, 2023 | 12:00 – 2:00 pm Pacific Time (U.S. and Canada)
For more information and to register, click here.