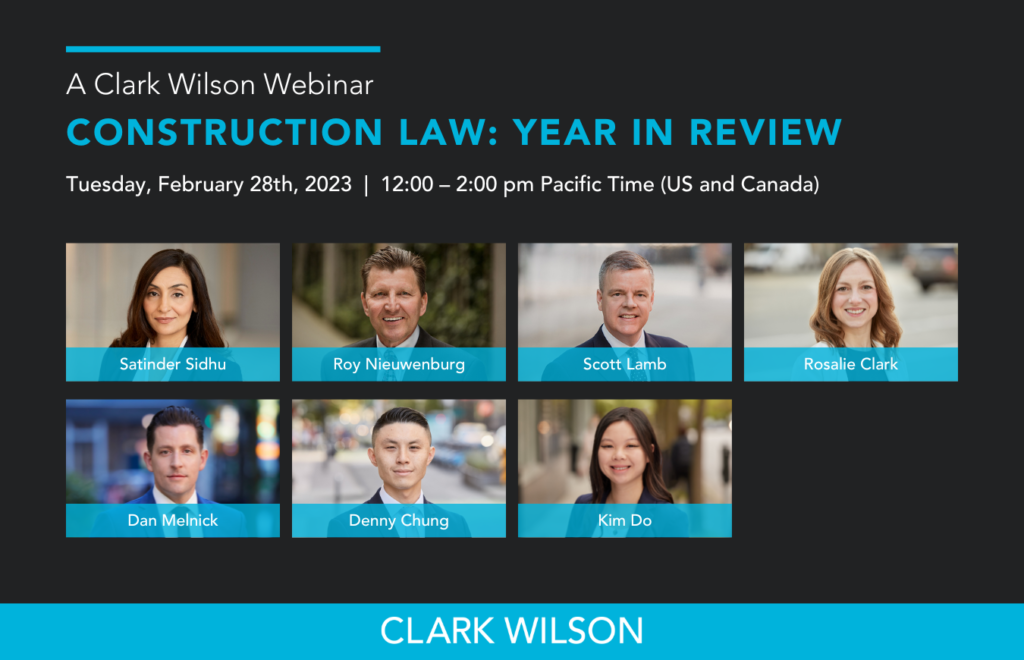 On February 28, 2023, our Infrastructure, Construction & Procurement group hosted a seminar, "Construction Law: Year in Review". Speakers included Satinder Sidhu (Moderator), Roy Nieuwenburg, K.C., Scott Lamb, Rosalie Clark, Dan Melnick, Denny Chung and Kim Do.
In this webinar, attendees learned about the key findings, principles and developments in construction claims over the past year. The cases discussed considered the following topics:
Builders Lien Update — the procedural requirements under the Builders Lien Act, what lands can be liened, time limits to file and damages for wrongful filing
Construction Defects — what is the liability of developers?
Procurement — blacklisting bidders from procurement opportunities
Bonds — what are the consequences of misrepresentation?
Contract Requirements — dealing with pay-when-paid clauses and the impact of parties' conduct on contract interpretation
Update on Prompt Payment Legislation — lessons learned from other provinces and what to expect in B.C.
Listen to the audio of the webinar and download the presentation slides below. If you have any questions on the topics covered, please reach out to Satinder Sidhu at ssidhu@cwilson.com