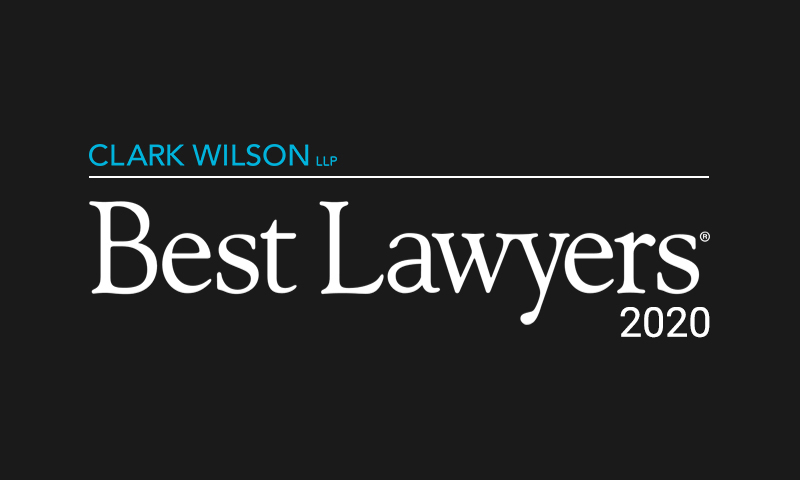 Congratulations to 21 of Clark Wilson's lawyers for being peer-selected for the 14th edition of Best Lawyers in Canada 2020. These lawyers have been recognized for their professional excellence across 15 different practice areas.
This year's list includes: Aaron B. Singer, Alex Petrenko, Amy A. Mortimore, Bernard Pinsky, Q.C., Brent Meckling, Christopher J. Ramsay, Darren T. Donnelly, David Ford, Diane M. Bell, Q.C., Geoffrey White, James Speakman, Jeffrey Vicq, Kevin J. MacDonald, Michal Jaworski, Neil Melliship, R. Brock Johnston, Richard Weiland, Rosemary John, Roy Nieuwenburg, Q.C., Scott Lamb and William Holder.
Best Lawyers also selects the "Lawyer of the Year" based on overall feedback within specific practice areas and metropolitan regions. This year's list includes Clark Wilson's own Neil Melliship for Information Technology Law.
Congratulations to all of the honorees.
Visit Best Lawyers to view the full list of the Top Lawyers in Canada.
About Best Lawyers
Best Lawyers is a well-respected, peer-review publication identifying leading practitioners in the legal profession. For almost 40 years, Best Lawyers has assisted those in need of legal services to identify the lawyers best qualified to represent them in distant jurisdictions or unfamiliar specialties. Best Lawyers lists are published in leading local, regional, and national publications across the globe.